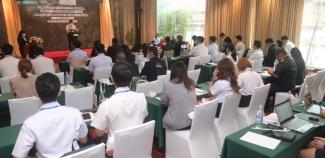 AFMA works with Thailand on fisheries monitoring, control and surveillance
AFMA staff have recently returned from delivering a workshop on Fisheries Monitoring, Control, and Surveillance (MCS) Analytics, Innovation and Best Practices to the Thailand Department of Fisheries (DoF) held in November in Bangkok, Thailand.
The workshop was held under the SEA IUU Fishing program which aims to enhance Southeast Asia MCS capacity, regional cooperation and gender inclusivity.
The workshop showcases Australia's longstanding fisheries cooperation with Thailand to combat IUU fishing in the region. During the workshop, AFMA and DoF had opportunities to share MCS information and discuss future MCS collaboration in the region.
AFMA regularly arranges for our officers to conduct in-country training and workshops across the Pacific, Indian Ocean and South East Asian regions. These capacity building activities, delivered by AFMA, assist in developing close working relationships between countries and strengthens our collective efforts in combatting and coordinating the fight against IUU fishing.
For more information, see our Monitoring, Control and Surveillance webpage.