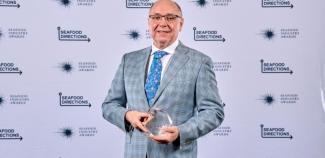 Congratulations to the 2022 Seafood Industry Award, Industry Ambassador Dr. George Kailis
The Australian Fisheries Management Authority (AFMA) congratulates Dr. George Kailis on receiving national recognition for his contribution to State and National fisheries management policy and research.
Dr. Kailis was awarded the Industry Ambassador at the Seafood Directions Conference held in Brisbane in the 2nd week of September.
Sponsored by AFMA, the prestigious Industry Ambassador award is given to an individual who has made a significant contribution and is an ambassador for the seafood industry.
Dr. Kailis' career crosses family business, academia, the public sector, Indigenous rights, fisheries research, legal research and fisheries management. He was also an AFMA Board Member from February 1998-2001, a Director of the AFMA Board Finance and Audit Committee, and the AFMA Board Environment Committee.
Dr. Kailis is the Chair of the Commonwealth Fisheries Association (CFA), the recognised peak industry body for Commonwealth managed fisheries.
"I am grateful for this recognition by my peers in the seafood industry. Through my career I have had not only the support of my family and the industry, but also of fishery professionals, academics, and government agencies.
"Our biggest challenge is to not merely to adapt to changed societal expectations, but to exceed those expectations."
"To meet this challenge, wild caught fisheries and marine aquaculture will need to extend our networks and work collaboratively. Seafood Directions 2022 successfully demonstrated how this can be done," says Dr. Kailis.
In addition to his Industry Ambassador Award, Dr. Kailis was also inducted into the 2022 Seafood Industry Hall of Fame. The Hall of Fame is presented to persons who have made substantial positive differences to the seafood industry over at least twenty years. The differences that these people have made is normally at a national level, often beyond the bounds of their enterprise or employment and uncompensated. They have outstanding personal and leadership qualities and are highly respected throughout the seafood industry.
Congratulations again to all winners and highly commended nominees. A full list of winners can be found at https://www.seafooddirections.com.au/seafood-industry-awards/
Image courtesy: Seafood Directions 2022 (Facebook page)