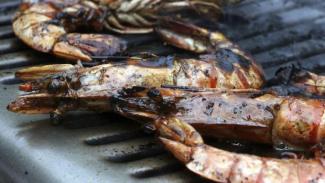 Enjoy Easter with family, friends and sustainable Aussie seafood
This Easter as Aussies reconnect with family and friends the Australian Fisheries Management Authority (AFMA) is encouraging them to shop at their local fish shop or fresh seafood market and enjoy sustainable Aussie seafood. 
Buying sustainable seafood caught by local commercial fishers is not only fresh and healthy it supports an industry that is vital to many communities around Australia. 
Australians are fortunate to have the choice of an excellent range of sustainable seafood and can have the utmost confidence in the supply and quality of our locally produced premium seafood. 
When Australians choose to buy Australian seafood they are supporting an industry that is closely regulated and sustainably managed to ensure Australian fish stocks and our fishing industry are viable now and in the future. There are a huge number of choices for seafood lovers and good guidance to make sustainable decisions can be found by downloading the Status of Australian Fishstocks app. 
By doing so, we can all play our part to make sure that healthy and fresh local seafood is available and affordable to all Australians for current and future generations. 
AFMA's CEO, Wez Norris, said enjoying Australian seafood at Easter is a tradition we can continue to enjoy.  
"More than ever, this Easter I'm looking forward to catching up with my family and friends cooking some prawns on the barbie and enjoying some fresh tuna sashimi. 
"However you add seafood to the menu this Easter, whether you grill scallops on the BBQ, fry your favourite fish, feast on a bucket of prawns or pick up fresh calamari from your local takeaway, buying Australian seafood is a sustainable choice."  
More information about AFMA managed fisheries can be found at afma.gov.au.