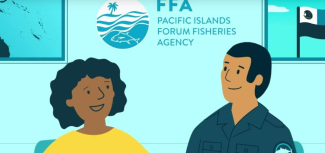 International engagement and Pacific regional cooperation
International cooperating is vital to successfully combat illegal, unreported and unregulated (IUU) fishing and to sustainably manage shared fish stocks across multiple exclusive economic zones and the high seas.
Australia has a long history of working together with Pacific Island partners to combat IUU fishing in our region. Through regional cooperation, countries can address IUU fishing challenges together, ensuring Pacific fish stocks are managed sustainably and maritime security is maintained.
In the Pacific, we take part in regional operations, including enforcement activities coordinated by the Forum Fisheries Agency Secretariat, largely using the Niue Treaty Subsidiary Agreement (NTSA) for more effective participation.
The Australian Fisheries Management Authority has developed some videos outlining the monitoring, control and surveillance tools and regional cooperation initiatives used to deter IUU fishing in the Pacific.