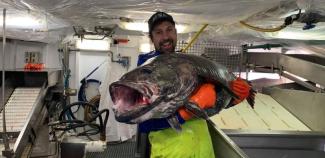 Meet the Observers – Sam
With a keen interest in fisheries and the outdoors, Sam Langholz was stoked to become an observer with the Australian Fisheries Management Authority (AFMA). Hear from Sam on life as an AFMA Observer and his experience seeing the Aurora Australis first-hand.
I have been with AFMA for about five years now and have always had an interest in fisheries, particularly the link between quality science and effective management. I also wanted a job that allowed me to work outdoors and expose me to new experiences, and being an AFMA Observer offers that in spades.
I completed a Bachelor of Science First Class Honours in Marine Ecology at the University of Adelaide and am also a qualified commercial diver. I have worked on a range of projects from inshore construction and maintenance to scientific survey work. I also completed an internship at the Western Central Pacific Fisheries Commission while living on the island of Pohnpei in the Federated States of Micronesia.
I try to work in as many different fisheries as possible. That usually means doing one Southern Ocean trip per year, multiple trips in the Northern Prawn Fishery and South East Trawl and the occasional Coral Sea Trip. While I enjoy working in all fisheries, nothing beats getting up for work and looking out the porthole to a series of icebergs in the Antarctic Toothfish fisheries. Working that far south in some of the roughest and calmest seas in the world is an opportunity very few people get to experience.
Working in the Northern Prawn Fishery is an experience like no other. Banana prawn season can be challenging due to working overnight and identifying hundreds of bycatch species, including fish and crabs, while maintaining close relationships with crew in confined living spaces.
I have so many tales and stories to tell, but, hands down, the best moment I've experienced was seeing the Aurora Australis for the first time on a Southern Ocean trip. We were lucky to have perfect conditions for the southern hemisphere's equivalent of the Northern Lights to appear. The sky was painted in amazing greens and blues, and being out at sea in glassy conditions made it even more incredible.
Just as memorable are the constant sunsets you get in the Gulf of Carpentaria. Some of the best memories I have are sitting on the bow of a prawn boat eating dinner with the crew whilst watching the fire sunsets the Gulf offers every single night.
One of the best achievements from a recent Southern Ocean trip was when one of the deep water cameras (supplied and funded by the Australian Antarctic Division (AAD)) captured for the first time, at a depth of nearly 3000m, a species of swimming sea cucumber, Enypniastes eximia. This was the first time this species had been documented that far south. When I first downloaded the footage from the camera I thought I had just captured footage of a jellyfish and thought "yeah its cool, but it's no sleeper shark". It wasn't till I sent the footage to AAD that I received a phone call from their Antarctic fishery program division informing me what exactly that particular species was. That was an exciting moment and really highlights the fact that the work we do has an immense amount of value for both research and management.
----------------------
AFMA places observers on Commonwealth commercial boats in many Commonwealth fisheries to collect unique, accurate and reliable data on fishing operations, catches, and interactions with the marine environment by the vessel and its fishing gear.
More information on the AFMA Observer Program can be found at afma.gov.au.