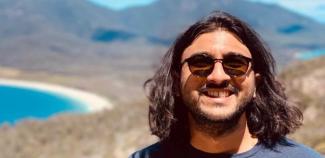 National Science Week – Profile Roshan Hanamseth
This year we bring you some AFMA team profiles, showcasing how science and AFMA work hand in hand in sustainable fisheries management.
Today's profile in the spotlight is Roshan Hanamseth, who joined AFMA's Lakes Entrance office.
Roshan is a Senior Management Officer, completed a Bachelor of Marine Science with first class honours from IMAS University of Tasmania Hobart and credits his very first scuba dive in the Maldives for his enhanced love of the ocean.
Studied: completed a Bachelor of Marine Science with first class honours from IMAS UTAS Hobart; For my honours thesis, I assessed the importance of net colour as a seabird bycatch mitigation measure in gillnet fishing. Currently studying a PhD in Marine Science from UNSW Sydney, this involves investigating the NSW blue swimmer crab fisheries in response to environmental factors such as temperature and conductivity. 
 
What prompted you to study in your particular field?
My very first scuba dive which was in the Maldives only enhanced my passion for the ocean. I have always been attracted to the ocean and all the creatures that live within it. 
 
What attracted you to working at AFMA? 
Ever since my honours year I've been interested in pursuing a career in fisheries biology and management.
 
How has your study contributed to working at AFMA?
The skills that I am learning in my studies give me a great understanding of the everyday workings of fisheries management. These skills equip me to perform my daily work activities with confidence. 
 
Words of advice for those looking to study in the same or similar field as you.
If you persist in striving towards achieving your goals/dream job, you'll get there eventually. 
 
Do you have any anecdotes from your study to share?
During my honours year, I conducted field work in the Melbourne Zoo on little penguins investigating how they perceived different coloured gillnets underwater. The little penguins were ideal species to conduct this research on as many of them so inquisitive with the experimental design during the control phase of the project. I truly enjoyed working with these little penguins and watching their behaviour.