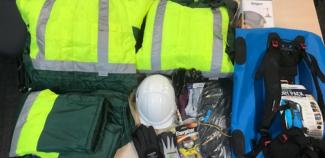 Putting the freeze on IUU fishing
In support of effective Monitoring Control and Surveillance (MCS) of fisheries resources in the Pacific, 25 Freezer Inspection Kits have been assembled by the Australian Fisheries Management Authority (AFMA) International Engagement team for distribution to Pacific Island Countries.
Freezer suits and associated Personal Protective Equipment (PPE) including torches and gloves, are essential tools for safe freezer entry when inspecting commercial fishing vessels. The Freezer Inspection Kits will allow fisheries inspection officers in the Pacific to safely verify logbook data, catch type and quantity.
The Freezer Inspection Kits were sourced by the Forum Fisheries Agency (FFA) with joint funding from the Australian Department of Foreign Affairs and Trade (DFAT). They are destined for FFA member countries including the Cook Islands, Fiji, Federated States of Micronesia, Marshall Islands, Papua New Guinea, Samoa, Solomon Islands, Tonga, Tuvalu and Vanuatu.
"The equipment has been procured in response to members' requests outlined in regional monitoring and surveillance workshops and a need to facilitate safe and effective searches of freezer spaces" Mr Yohni Fepuleai of the FFA explained.
Countries who have ratified the Niue Treaty Subsidiary Agreement (NTSA) are able to request the delivery of the Freezer Inspection Kits directly through the Niue Treaty Information System – an online portal connecting NTSA signatories, facilitating cooperation and the sharing of MCS resources.
You can find out more about the International compliance and enforcement activities on the AFMA website.