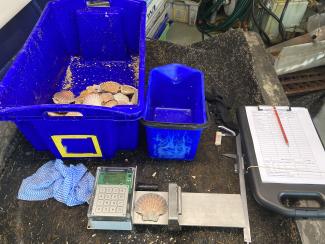 Surveying for scallops
In the lead up to the 2021 Bass Strait Central Zone Scallop Fishery season opening in July, the Australian Fisheries Management Authority (AFMA) is working with industry to conduct the annual biomass survey. The survey collects information on the number and size of commercial scallops (Pecten fumatus) in scallop beds that have been identified as commercially viable. This information helps to set both the total allowable catch (TAC) and area closures for the season.
Twelve scallop beds will be surveyed by four fishing boats operating under a research catch allowance. In positive news for the scallop fishery, four beds not surveyed previously will be included in the 2021 survey, which will improve our knowledge of the extent of the fishery and biomass throughout the fishery.
Surveying for scallops is conducted with the same dredge used when fishing commercially, however instead of the catch going through a tumbler, which sorts out the bycatch and small scallops, all the catch captured in the dredge is retained.
Independent observers then check how many scallops are caught and the size of the scallops. The survey also provides an opportunity for the observers to collect data on the bycatch caught, which is low. The scallops are then returned to the beds after the survey, where they can continue to grow.
Scallops are delicious and a great economic resource for Victoria and Tasmania. Research and strong fisheries management arrangements, including TACs, and spatial closures, will make sure the resource is around for future generations to enjoy.