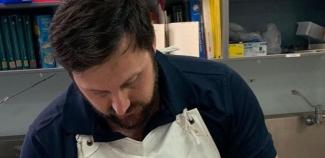 Using Psychology and Marine Studies to manage fisheries
As a Senior Fisheries Management Officer working in the Torres Strait, Andrew uses his unique academic background in Marine Studies and Psychology to understand the key players in fisheries management: the fish, and the people who catch them. As part of National Science Week, we asked Andrew to tell us more about how a childhood love for the sea led to him working for AFMA.
 
What first interested you in science and/or marine studies/natural resources?

Gazing into tidal rock-pools as a child, wondering at all the bizarre creatures that can exist in just a bath-tub of water. I've always been fascinated by the diversity of all marine life but mainly the fishes: thousands of species, dozens of body forms, huge range of sizes and all their clever adaptations to allow them to feed and breed, sometimes in extreme environments.
 
What did you study at university?

Bachelor of Marine Studies with Honours from UQ - the fish component - and also a Bachelor of Psychology (Behavioural Science) from QUT – the human component. While it would be a lot easier to manage the fish stock directly, AFMA actually can only manage the people that catch these animals. Understanding psychological factors such motivation, personality and adaption to change helps greatly in this job. I majored in statistical analysis during my degree in Psychology which is really useful as I deal with a lot of fisheries data.
 
How did you come to work at AFMA?

I joined AFMA's Graduate Program in January 2009. I knew I wanted to work in the marine space somewhere and AFMA has been great as you are working on solving problems with a range of marine stakeholders including fishers, managers, scientists and conservation groups. Management of fisheries is challenging and interesting as it is all about balance between different stakeholder wants and needs.
 
What is your current role at AFMA?

Senior Fisheries Management Officer in AFMA's Torres Strait Office, located on Thursday Island. I have been living and working here for four years. One of my main roles is managing the Torres Strait Finfish Fishery which is a hook fishery targeting Spanish mackerel, coral trout and reef-line species. Duties include the yearly process to assess the catch and effort data from the fishery to help determine the level of sustainable harvest for the next fishing season. We are accountable to the public of Australia, including Torres Strait communities who trust AFMA to make sure these fisheries are managed for sustainability, meaning that good amounts of fish are available for future catches. I am also working on an interesting project with fishers across Torres Strait to collect biological samples from mackerel to help us measure the length and age of fish to better understand the structure of our stock (births, deaths and marriages).
 
How is science and/or technology important to your day to day work?

Science is understanding how people relate to the natural world and I use science daily to help a range of stakeholders understand how their fisheries are going. A big part of my job is solving problems and understanding these problems is half the battle.  AFMA collects a range of data from fishers, like daily catch, location and hours fished and a big part of my job is turning these data into information and then knowledge to support decision making e.g. reporting back to communities how much catch has been landed and supporting stock assessments (which are mathematical models of the stock - history, present size and likely future performance) which are critical in setting sustainable catch limits.