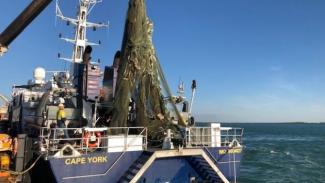 Working together to remove marine threats
Joint media release with ABF
Cooperation between the Australian Fisheries Management Authority (AFMA) and Maritime Border Command (MBC), a joint agency task force enabled by both the Australian Border Force (ABF) and the Australian Defence Force (ADF), has resulted in the removal of environmental hazards from the waters of northern Australia in recent months.
In July and August, patrol vessels from the ABF retrieved two large and abandoned fishing nets, known as ghost nets, one illegally set foreign gillnet and a Fish Aggregating Device (FAD) in waters north of Darwin and in the Torres Strait.
FADs are manmade objects used to attract marine life and are usually comprised of buoys or floats. Others are made of wood, bamboo or other plant material that could have a detrimental effect to the Australian environment should they reach land.
The first ghost net was discovered by the ABF Cutter (ABFC) Thaiyak, about 20 nautical miles northwest of Melville Island in the Northern Territory on July 24. The net weighed an estimated three tonnes and contained a small amount of dead marine life.
On August 6, ABFC Cape York retrieved a ghost net 170 nautical miles northwest of Darwin, near Evans Shoal. The net, with a potential span of two kilometres, contained both live and dead marine life including two sea turtles, which were thankfully both alive and able to be cut free and returned to the water.
A day later the Thaiyak discovered a FAD 10 nautical miles inside Australia's Exclusive Economic Zone, 110 nautical miles northwest of Bathurst Island in the Northern Territory after it had drifted in from foreign waters.
On August 10 near Deliverance Island in the Torres Strait, an illegally set 200m long foreign gillnet was retrieved by ABFC Cape Jervis.
All items were delivered to AFMA for disposal.
AFMA's General Manager of Fisheries Operations, Peter Venslovas, said the retrieval and disposal operations had helped to protect the unique biodiversity of Australia's northern waters.
"Due to the type of nets retrieved they were most likely abandoned by foreign fishers and as they drift into Australian waters can be incredibly damaging entangling and slowly killing species such as turtles, dugongs, seabirds, dolphins and other fish species." said Mr Venslovas.
Commander Maritime Border Command, Rear Admiral Lee Goddard, said this operation illustrated the Australian Government's commitment to responding to the range of threats in Australia's maritime zones.
"Maritime Border Command and our partner agencies do an exceptional job protecting the Australian maritime border. As part of this we have an important role to play in safeguarding our marine wildlife and natural resources," Rear Admiral Goddard said.
More information on AFMA's sustainable fisheries management can be found at afma.gov.au.
Media contact:
Australian Border Force (02) 6264 2211
Australian Fisheries Management Authority: 0437 869 860