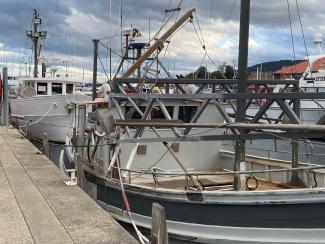 End of life for Inmarsat C VMS devices
Inmarsat C Vessel Monitoring System (VMS) devices have now reached 'end of life' and the Australian Fisheries Management Authority is advising all Commonwealth fishers they should replace these devices as soon as possible.
In October 2020, AFMA advised fishers that it had withdrawn approval for the use/installation of Inmarsat C devices to meet our VMS requirements. At this time, these units were 'grandfathered' allowing existing units to remain but no new or second-hand units were to be installed or transferred between vessels.
Some two and half years after the grandfathering of these devices, there are still a large number in operation across the Commonwealth fleet. Recent changes to communication networks have seen a number of these 'end of life' units progressively fail. In addition, the charges direct to fishers have significantly increased, with fees up to $150 a month now being charged by some suppliers.
We strongly encourage all Commonwealth fishers using these devices to replace them as soon as possible, or risk being unable to fish when the devices ultimately fail. 
AFMA's approved list includes a range of devices suitable for various fishing operations and circumstances. Currently none of these devices are subject to ongoing monthly charges payable directly by fishers.
Operators should contact their preferred suppliers to discuss replacement options. Enquiries can also be directed to the AFMA VMS team at ausvms@afma.gov.au or (02) 6225 5555. Dual endorsed operators should also contact the relevant State/Territory fisheries agency to ensure the suitability of replacement devices.