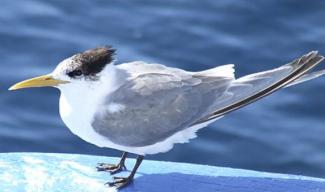 There are many different species of seabirds found within the boundaries of AFMA managed fisheries. All of them are protected by the Environmental Protection and Biodiversity Conservation Act 1999.
Sometimes seabirds may interact with fishing boats that use trawl or longline gear.
Biology
Seabirds include any species of bird that spends a significant part of their life eating or breeding at sea. Some of the more well known seabirds are albatross, petrels and shearwaters.
Seabirds generally take their prey from the top few metres of the water column, and many are scavengers, eating dead fish, squid and other marine life. They often congregate in flocks when searching for food or can forage alone.
Fishing and seabirds – how they interact
Seabirds can interact with fishing boats that use trawl or longline gear. Birds are attracted to fishing vessels as a source of food, particularly when bycatch and offal is being thrown back into the ocean.
An 'interaction' is any physical contact a person, boat or fishing gear has with a protected species that causes the animal stress, injury or death.
Interactions with seabirds can happen when boats are trawling and the bird comes into contact with the wires used to drag the net along. Birds can also get caught on the hooks of longlines when the gear is being deployed and the birds are chasing the bait.
Monitoring interactions
AFMA collects data on interactions with protected species through our monitoring programs.
Logbooks –  All fishers are required to report any interactions they have through their logbooks.
Observers – Observers are AFMA officers who travel on Australian fishing boats to collect biological data and make environmental observations which contributes to the monitoring of fishing interactions with protected species.
How AFMA and industry minimise interactions
Page last updated: 11/02/2023