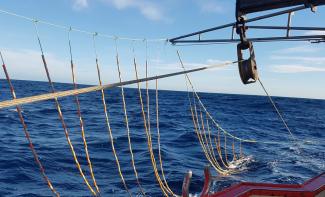 A bird baffler is a curtain like device which has been designed to deter seabirds from foraging in between the stern of the vessel and where the warps enter the water. Bafflers are an AFMA approved seabird mitigation device in the Commonwealth Trawl Sector which can be used as an alternative to warp deflectors.
The problem
Seabirds are attracted to fishing boats and feed on offal discarded overboard during processing. Feeding from behind the boat puts the seabird in danger of being injured or killed by fishing gear like trawl nets and warp cables. Their wings can become tangled on the warp wires or in the net and they can be dragged under water, possibly leading to drowning.
The solution
The bird baffler was developed as part of an Australian Government funded project conducted by the South East Trawl Fishing Industry Association (SETFIA), to find ways to further decrease interactions between fishing gear and seabirds. The bird baffler is an AFMA approved seabird mitigation measure for demersal trawling and has been tested against a series of strict performance measures by scientific observers.
How bird bafflers work
Bird bafflers contain two booms, one on the port and one on the starboard stern quarters which extend perpendicular to the sides of the vessel, past where the trawl wire enters the water. The booms have droppers hanging down to the water line which act as a curtain, and tori lines extending from the booms.
The baffler is designed to prevent seabirds from accessing the front and sides of the warp wire whilst trawl gear is being towed as these are the areas where seabird interactions are most likely to occur.
Page last updated: 17/02/2023